Aldila Tour Green Driver Shaft

The Aldila Tour Green driver shaft design is what I refer to as a archetype EI profile design. I first reviewed the Aldila Tour Green in 2014 at GolfShaftReviews. An archetype design is one that is so successful and popular that it is copied and produced by many golf shaft manufacturers. When a design wins on the tours year after year it gets copied. The Aldila Tour Green is one such design. New materials get placed into updated designs from the original manufacture but the EI profile remains.
Aldila NV '23 Series

I have not measured and reviewed this shaft, samples are inbound. From the Aldila website, "The new NV™ Green features the same constant taper design to a smooth and stable feel shot after shot. The next generation NV™ also incorporates ALDILA®'s NexGen Micro Laminate Technology® (MLT) – which uses more than 20 layers of ultrathin, aerospace-grade prepreg, that eliminate unwanted gaps and "dead zones" that can occur during the manufacturing process. MLT enhances feel and reduces inconsistent shots cause by shaft variability. "


Fit2Score fits with these Tour Green Archetype Profile Shafts:
Graphite Design MAD Pro

When I apply the term Archetype to a shaft it is done with reverence to the design. When I measured the Graphite Design MAD Pro shaft in 2018 the Tour Green profile jumped off the page at me. It is unique, a center hinge. with the same linear slope above and below the "hinge" where the tip segment is stiffer than the butt segment.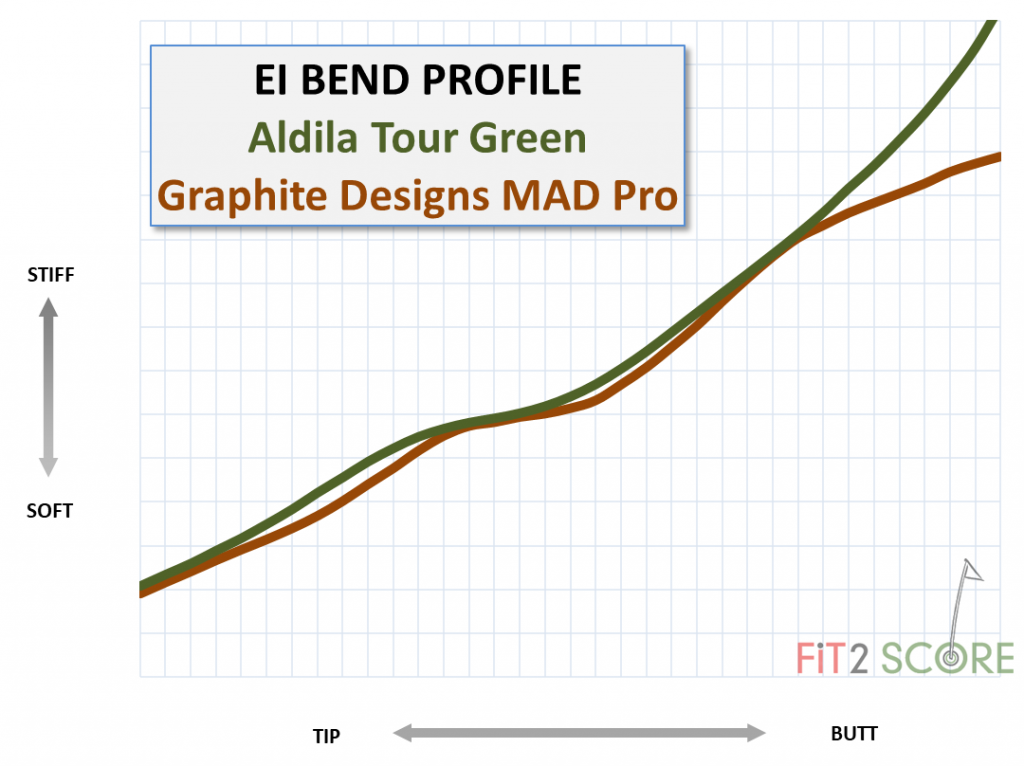 LA Golf DJ Signature Series

There is some history to this LA Golf driver shaft. John Oldenburg was the shaft designer at Aldila responsible for the Tour Green Design. When Mitsubishi acquired Aldila John became the shaft designer at LA Golf. The first generation of LA Golf shafts had a shaft named OLYSS, the John Oldenburg Signature Series. When I saw the green paint fill on the shaft graphics I knew what it was before I measured it. John is now the Director of Shaft Development at PING.

The profile lives on at LA Golf as the DJ Signature Series and with variations of the profile in the A Series Low and the Bryson Series Low.